India is a land of cultures and festivals. The country witnesses several festivals across various cultures throughout the year. Every state has its signature festival for which it is known. From North to South and East To West, the country is flocked with multiple cultures thereby making the country a land of uniqueness. One such unique festival is celebrated in the Northeastern region of the country, which is known as Bihu. Bihu is a popular folk festival celebrated in the Indian state of Assam. It is a celebration of nature's bounty and the agricultural cycle. There are three types of Bihu festivals celebrated throughout the year: Rongali Bihu, Kati Bihu, and Bhogali Bihu.
Kati Bihu, also known as Kongali Bihu, is celebrated in mid-October and marks the end of the sowing season. During this festival, lamps are lit in the fields to pray for a good harvest. It is a solemn festival and people do not indulge in feasting or merrymaking.
Bhogali Bihu, also known as Magh Bihu, is celebrated in mid-January and marks the end of the harvesting season. It is a time for feasting, bonfires, and traditional games like buffalo fighting and egg breaking.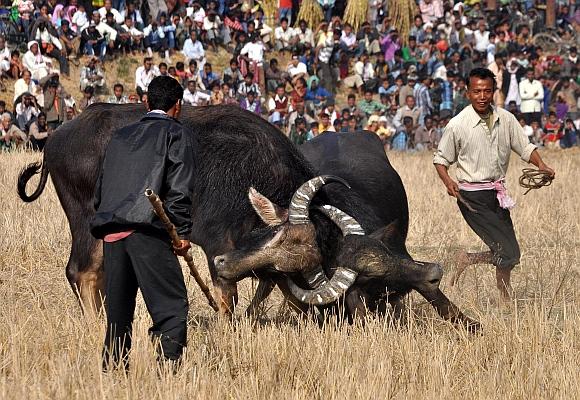 Rongali Bihu, also known as Bohag Bihu, is celebrated in mid-April to mark the beginning of the Assamese New Year and the start of the spring season. It is a seven-day festival that involves feasting, dancing, and music. The women wear traditional Mekhela Sador and the men wear dhoti-gamosa. The love of women for Meghala Sador (a type of sari) is such that every region with an Assamese population witnesses the women in their traditional attire. Men too, resort to Dhoti Gamosa and tend to preserve the cultural heritage, ethnically.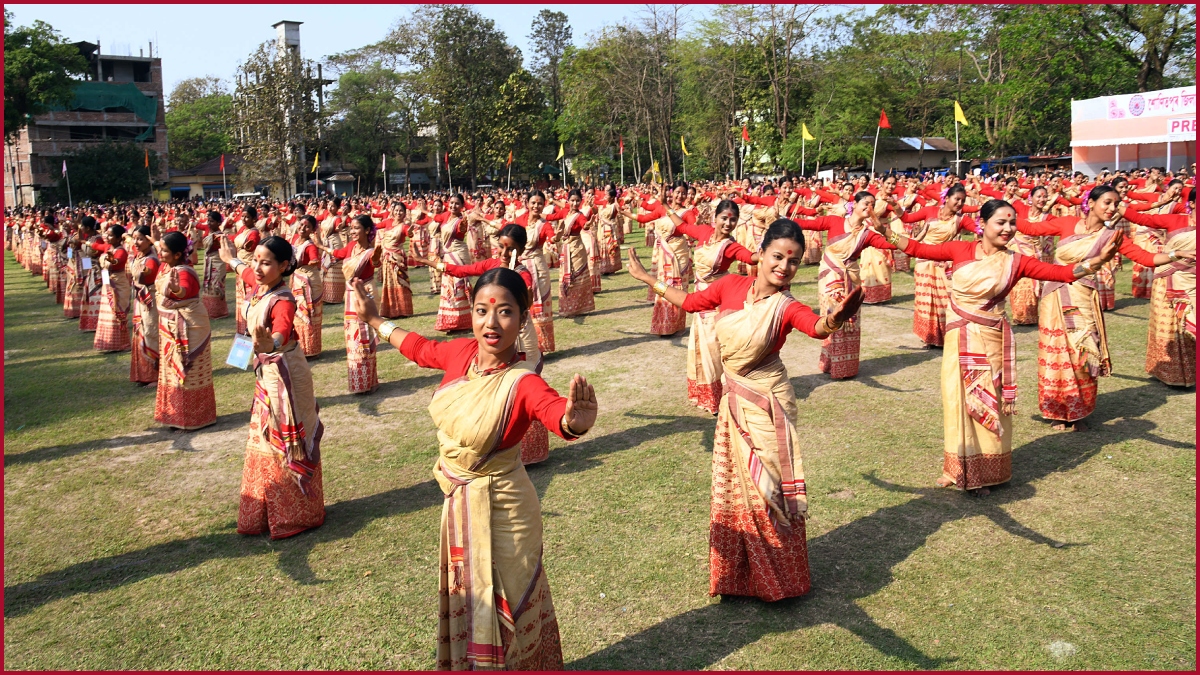 Since the state is all set to celebrate Rongali Bihu, let us know about it in detail:
RONGALI BIHU
Rongali Bihu, also known as Bohag Bihu, is a festival celebrated in the northeastern Indian state of Assam. It is a harvest festival that marks the beginning of the Assamese New Year and is celebrated in mid-April. The festival is a time of joy and celebration, with people coming together to sing, dance, and feast.
During Rongali Bihu, people wear traditional Assamese attire, prepare traditional dishes, and participate in a variety of cultural events. The traditional Bihu dance is performed by both men and women, accompanied by the sounds of traditional Assamese instruments like dhol, pepa, and gogona. People also visit their relatives and friends, exchange gifts, and feast on traditional Assamese delicacies like pitha, laru, and doi. Overall, Rongali Bihu is a time of happiness, prosperity, and new beginnings for the people of Assam.
Speaking about Bihu, Dr. Neelatphal Chanda, a native of Assam, and a Professor in Bengaluru, said, "It is indeed emotional to be away from home during the festivity days of Bihu. However, it feels me with immense pride to learn about the Guinness World Record, which Assam is all set to create." "It is necessary for everyone to take pride in our culture and celebrate them with pomp and show. It keeps you connected to your roots," he added.
What's Special This Year?
This year's Bihu in Assam is all set to create a world record with more than 11,000 dancers and drummers taking it to the stage to perform the traditional dance form. As per reports, the Chief Minister of the state, Himanta Biswa Sarma, is himself monitoring the preparations and leaving no stone unturned in fulfilling the dreams of the performers. The performers have also been given an allowance of Rs. 10,500 from which they will also be buying the clothes used for the performance.
A short video of the rehearsal has also been sent to the Guinness Book of World Record for consideration. With the zeal and aspiration to enlist itself in the World Records, the state is giving their heart and soul to prepared for this Grandiose Mosaic. Prime Minister Narendra Modi is also expected to be present at the event.
Bihu is an important part of Assamese culture and is celebrated with great enthusiasm and joy throughout the state. It is a time for family and community bonding and for celebrating the richness of Assamese heritage.
By Rupam Shukla
Content Writing Intern, Tripsero